Sizes Available  1/2″,3/4″, 1″, 1.5″, 2″, 2.5″, 3″, 4″,5″
Brush Head        White bristles / White mixtures
Brush Ferrule     Tin-plated
Brush Handle     Solid Wooden handles
PAINTBRUSHA Chip Paint Brushes - Affordable and Reliable!
Looking for chip paint brushes that deliver outstanding results? Look no further! PAINTBRUSHA manufacture and supply different sizes of chip paint brushes. We can also customize paint brushes according to your requirements.
Our chip paint brushes feature white bristles that have sizes from 1/2 inch to 5 inches, they are perfect for a variety of business needs and projects. Whether you're importer,wholesaler,brand owner or industrial professionals in need of reliable paint brushes, PAINTBRUSHA have you covered.
Wholesale paint brushes and join our 1000+ satisfied customers who have already imported paint brushes from PAINTBRUSHA. Make your order today and take your painting business to the next level!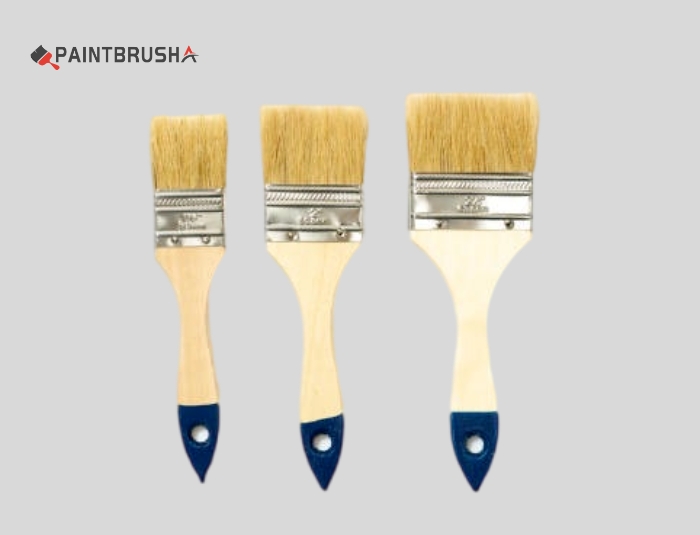 Chip Paint Brushes Blue Tip
Customize Chip Paint Brushes
Benefits of Using Our Chip Paint Brushes
With our brushes, you can save time, and achieve a premium finish.
Our chip paint brushes are versatile and suitable for both latex and oil-based paints and stains. Whether for painting walls, trims, cabinets, doors, fences, decks, or engaged in DIY projects, our paint brushes are up for the task. They are also great utility brushes for various paints, stains, varnishes, acrylics, and plaster.
Crafted with durability in mind, these brushes are built to last. The thick natural bristles are carefully selected to hold more paint, allowing for efficient coverage. Say goodbye to constant dipping and hello to smoother strokes. Plus, our brushes are easy to clean, ensuring hassle-free maintenance and reuse.
Comfort is key during long painting sessions, which is why our chip paint brushes feature lightweight wooden handles. They are designed to provide a comfortable grip, reducing hand fatigue and making your painting experience more enjoyable.
Can the chip paint brushes be customized or personalized with specific branding or labeling?
Yes, we provide customization options such as branding or labeling on the chip paint brushes. Please inquire about our customization services for more details.
What is the minimum order quantity for purchasing chip paint brushes from your factory?
The minimum order quantity for purchasing chip paint brushes can be provided upon request. Please contact our sales team for more information.
What is the lead time for production and delivery of the chip paint brushes?
The lead time for production and delivery of chip paint brushes depends on the order quantity and specific requirements. Our sales team can provide you with an estimated timeline once the details are finalized.
Does your factory have any quality control measures in place to ensure consistent performance and customer satisfaction?
Yes, we have. Quality control is an essential aspect of our manufacturing process. We have rigorous measures in place to ensure that our chip paint brushes consistently meet high-quality standards and customer satisfaction.
Can you provide samples or product catalogue for evaluation?
Yes, we can. Please let us know your requirements, and we will be happy to assist you.
Are there any additional services or products offered by your factory related to paint brushes or painting supplies?
Along with chip paint brushes, we offer a range of other painting supplies and tools. Feel free to inquire about our additional services and products related to paint brushes.