If you're a painter, you know that dirty paintbrushes can be painful after painting. Not only are they difficult to clean, but they can also lead to poor-quality paintings. This blog post will discuss how to clean dirty paint brushes quickly and easily after painting. Follow these simple steps, and your brushes will be good as new in no time!
First, wipe off the rest of the paint on the brush with a paper towel, then put the brush into a special solvent and water mixture, and immerse the brush in the solution for a few minutes. Then, please take out the brush and put it on the tap to clean it until the paint is clean, and finally, wring out the brush and put it into the storage container.
Cleaning Steps
1, Prepare two containers of water, a small comb, a bucket of paint thinner and a clean rag.
2, Add water to the container, add paint thinner inside and soak the paintbrush for 15 minutes.
3, Take the brush out of the container with a small comb to wipe off the paintbrush residue with a comb.
4, Put the paintbrush into another water container, soak the paint thinner for about 5 minutes, and shake it gently.
5, Wipe the brush with a clean rag and put it under the sun to dry.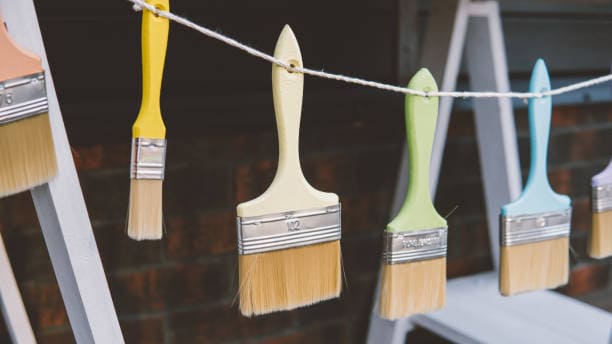 Tips for Cleaning Paint Brushes
First, wipe off the excess paint in the paintbrush with softener, then add 4 litres of water and half of the warm water fabric softener. Wait a few seconds, and you will see the paint start to come off. Shake off the excess paint and allow it to dry correctly.
Second is the use of vinegar. Soak the paint brushes in vinegar for 1 hour and check if they are softened. If not, continue soaking for an hour. Put the paintbrush into the pot, put in the old vinegar, vinegar completely covers the bristles, and wait for the light vinegar to boil. You need to put the brush to cook for a few minutes. Then remove the brush and leave it to cool. Then, use a comb to work on the paintbrush's bristles and repeat until the paint comes off. Finally, rinse with water until clean.
How to Maintain The Paintbrush?
1) You usually have to pay attention to cleaning and cleaning the brush. If the brush is missing, immediately wash it clean. Do not wait until the paint on the paintbrush is dry. Otherwise, the wash is not clean.
2) After cleaning the brush, please pay attention to drying. The brush is wet after washing and cannot be put in the storage container directly. It should be dried and then put into a dry and clean container.
3) When using the paintbrush again, re-wet the brush and follow the same steps as the first time you used the brush.